Pocket
Pocket is the main roughing strategy for clearing large quantities of material effectively. The part is cleared layer by layer with smooth offset contours maintaining climb milling throughout the operation. Supporting 3 to 5 axis machining and undercut.
Constant Cut
Constant Cut is the recommended roughing strategy for reduced machining time and prolonged cutter life. Constant Cut is intended for full depth cuts and shallow side milling and ensures constant engagement. The ramps are tapered for better chip escape. Constant Cut can be used for all your 3D roughing requirements and can machine both open and closed pockets as well as cores by machining from outside or from inside.
Contour
The Contour strategy is designed to give you an optimal finish for steep regions in your geometry. It is typically applied to areas where the slope exceeds an angle of 30 degrees. The Contour algorithm virtually slices the geometry into horizontal layers. At every layer the toolpath then machines along the edge of the two-dimensional geometry thus created. You can control the vertical distance between the toolpath layers with the stepdown parameter.
The Contour strategy contains many unique features. Advanced transitions. Spiral without any transitions. Machine flats. Machine shallow passes. Confine slope. 5 Axis tilt. Undercut and more.
Parallel
Parallel is a versatile finishing strategy which is usually applied for shallow or relatively flat regions in your geometry. As the name implies, the Parallel strategy rasters along the surface in parallel lines, either back and forth (zig-zag) or in one direction only. This means that when looking at the part from straight above, the toolpath will look like a set of parallel lines in a plane, but the tool of course always follows the height of the geometry. Parallel supports tilt and 5-axis undercut.
Scallop
Scallop finishing creates passes that are at a constant distance from one another by offsetting inwards along the surface. Like the other finishing strategies, machining can be limited by a contact angle range. Option to use guide curves, number of passes, center passes, spiral, smoothing, 5 axis tilt and undercut.
Pencil
The pencil strategy creates tool paths along or perpendicular in internal corners and fillets to make the finial smooth finish. It is possible to make pencil paths on fillets that are larger than the tool corner radius by setting the over-thickness parameter.
It can make a limited number of offsets from a pencil path to clear a fillet calculated on precious tool shape or the whole part. Those tool passes can be Normal, Trimmed, blend or even spiral. The traditional pencil can be combined with a contour / pocket type strategy in steep areas. All in the same operation. This builds a strong Hybrid Pencil strategy for high quality machining of fillets
Horizontal
The horizontal clearing strategy automatically detects all the flat areas of the part and clears them with an offsetting path. When the flat area is shelved above the surrounding areas, the cutter moves beyond the outline to clean the edges. Horizontal supports processing open flat areas from the outside. It allows to avoid unnecessary ramping and shorten machining time. Also undercut and bought ways machining is supported.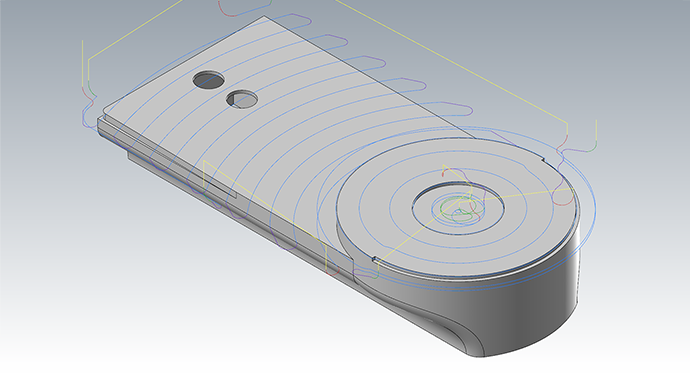 Horizontal using Open and Both ways cutting
Shows the Open machining functionality and ability to detect small details.
Download part file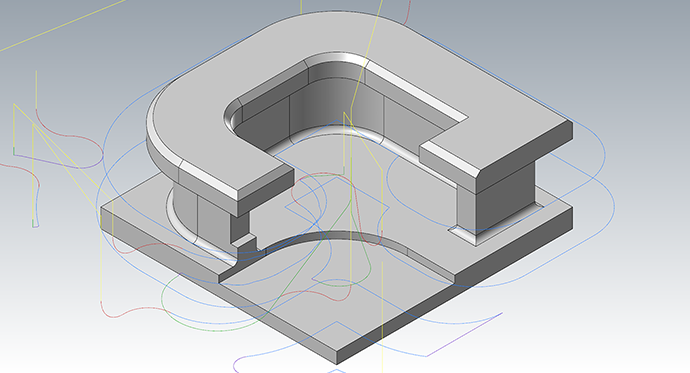 Horizontal using Undercut
Shows both ways horizontal machining on both floor and ceiling.
Download part file
Radial
Radial toolpath follows projected radial lines with one or more center points. Those can be defined, or automatically detected. Multiply passes along cuts to avoid narrow passes near center and spreading out on the outer passes. Also 5 axis tilt and undercut is possible.
Spiral
The Spiral strategy toolpath follows a projected spiral with one or more defined or automatic detected center points with a given spacing between the spiral passes. Often the true spiral is replaced of contour that also have a spiral option.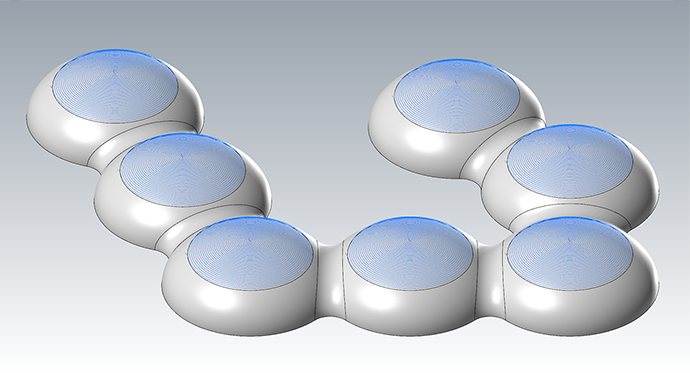 Spiral with multiple center points
This part has seven center points. Automatic detected.
Download part file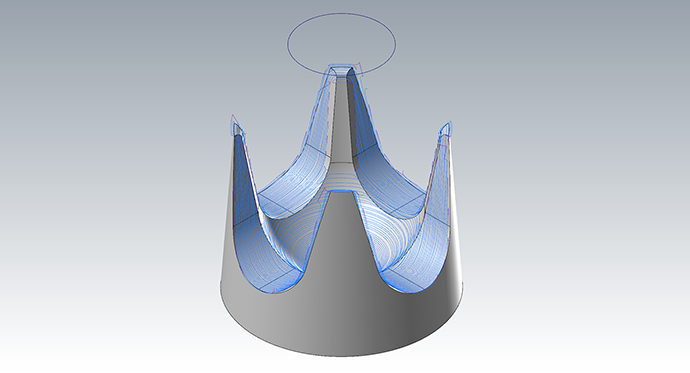 Spiral with Tilt, Check surfaces and Tilt curve
Toolpath uses a circular tilt curve to control that the tilting is done from the center. Check surfaces on the steep walls facing inward.
Download part file
Hybrid
Hybrid strategy automatically finishes the entire part with the locally best approach. This would be Contouring combined with Scallop or Parallel, switching strategy depending on the steep and shallow shapes on the part.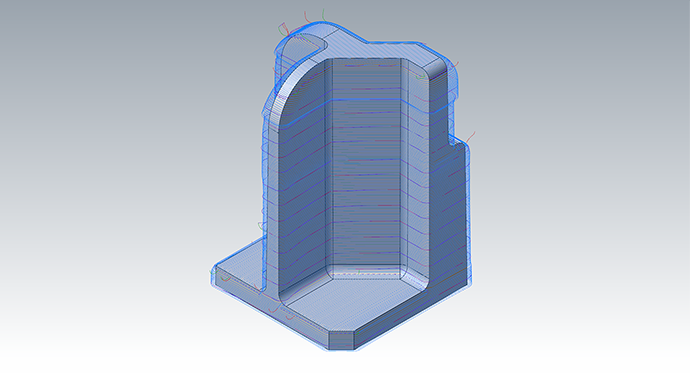 Hybrid using Tilt
Contour Parallel using Automatic Direction and 5-axis Tilt.
Download part file
Drilling
The drilling feature have many unique functions. 3D top that can detect if the top of a hole isn't flat so it can be machine using an end mill before drilling. Holder check and avoidance. Rest machining. Safe zone. Collision control and smart chamfering.
Project
Project is made to project wireframe geometry down on a 3D model. Often used for engraving.